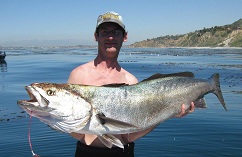 Phil's BIO
Phil Herranen grew up in Redwood City, CA with his outdoorsy family. They spent most weekends at the beach, fishing and playing in the tide pools. This began his lifelong love with the ocean. They enjoyed many summers camping along the California coastline. He watched the surfers and divers, looking forward to being old enough to do it himself. At 16 he began to surf and dive.
As a child he enjoyed taking things apart and rebuilding them, analyzing them to see how they worked. He was always making things in the garage alongside his dad. Shortly after he began diving he built his first simple speargun. A friend taught him to fiberglass surfboards, which lead to learning to shape and glass his own and many friends boards.
At 17 he started scuba diving traveling to Cozumel often to dive their clear waters. He also free dove for abalone along the northern California coast. Around 5 years later he chose to solely free dive as he enjoyed pushing himself and his limits and the freedom that came with it.
Around 18 years of age he started in the Sheet-metal Workers Union, which taught him more about working with metals, and the process of construction with them. In 2005 he started as a self-employed contractor working in heating/air conditioning and building spearguns on a professional level. Through trial and error he has created new designs, concepts and components. His father taught him," If you're going to do something, you do it well." That has been his motto ever since. Phil believes in putting the extra time and energy into each project to ensure it meets the highest level in both mechanics and aesthetics.
DESIGN
I build low recoil properly ballasted wood and composite spearguns. I am constantly trying new ideas and concepts to improve my guns in both accuracy and aesthetics. I have built my designs on proven concepts and designs from builders that came before me such as Scott Merlo, Daryl Wong, and Chris Chaput (Sea Sniper). I believe I have made worthwhile improvements on the inspiration I have gotten from these builders and am thankful for the advice they have given me.
GUN MODELS
All my gun models are starting points and are a solid working platform for a great gun. The can be customized for the end users size, fish type hunted and specific hunting conditions.
I am happy to customize and/or blend my base designs as long as it does not compromise the efficiency. I will not make an exact copy of another builder's gun.